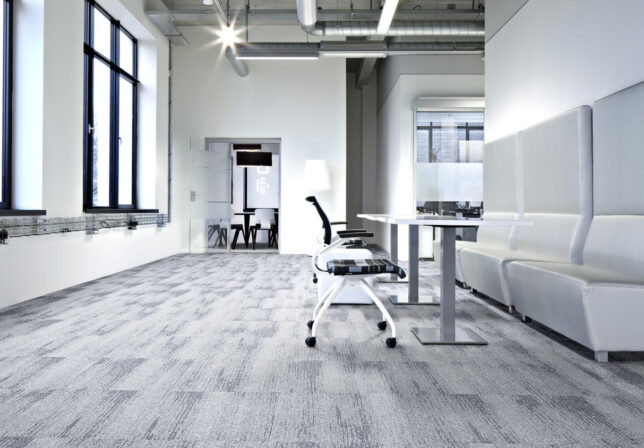 Essence Structure
DESSO Essence Structure takes on a more organic form, with an infinite series of fading lines. Its 'stone-washed' look is achieved through the juxtaposition of light and dark tones. Seven neutrals, including beiges and greys, create a subtle but interesting effect, while five more vibrant options – blue, teal, deep orange, bright orange and green – make for bold, statement flooring. Each of the 12 colours of DESSO Essence Structure can easily be combined with DESSO Essence, DESSO Essence Stripe and DESSO Essence Maze for an infinite number of outcomes.
AirMaster® Reflection
The DESSO AirMaster Reflection collection is inspired by Japanese design philosophy centred around balance, serenity and nature. The collection offers an inspiring and sustainable way to significantly reduce harmful fine dust particles in hotels and the workplace. By capturing and keeping them where they can do no harm: under your feet. The multi-layered design allows you to experiment with lines, textures and colours to create visually calming sanctuaries. The striking collection is available in nine shades across three broad themes; earthy reds and browns; soft and warm neutrals and muted cool hues. The palette selection makes it the perfect flooring choice for a range of different settings including a tranquil spa, contemporary boutique hotel and a welcoming workplace.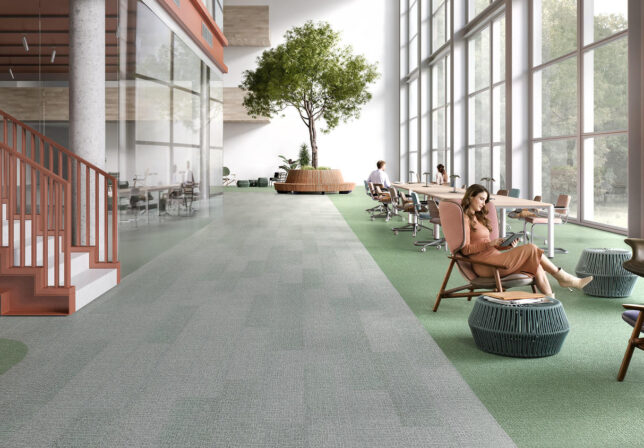 AirMaster Savera Shade
The DESSO AirMaster Savera Shade collection offers an inspiring, flexible and sustainable way to significantly reduce harmful fine dust particles in the workplace. By capturing and keeping them where they can do no harm: under your feet. Offered standard in plank format – a first for the AirMaster range – DESSO AirMaster Savera Shade is fit for the future: adaptable and sustainable. DESSO AirMaster Savera Shade is designed to be combined with the DESSO AirMaster Savera collection. The six transition colours of AirMaster Savera Shade are a perfect fit with the six solid tones of AirMaster Savera. With this range designers have endless combinations at their disposal to create the impact they envision.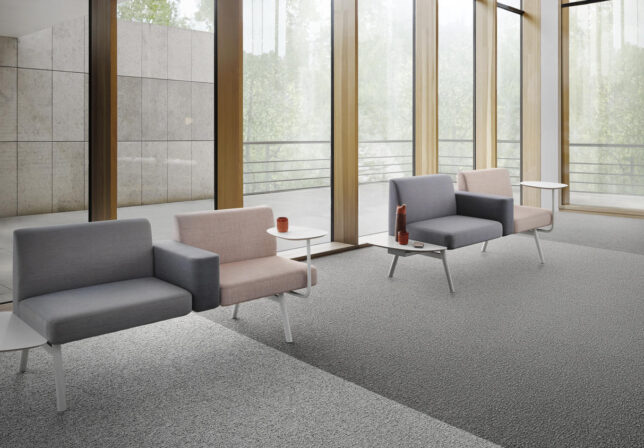 Airmaster Earth
DESSO AirMaster Earth offers patented technology which is proven to be 8 times more effective in capturing and retaining fine dust than smooth flooring solutions (PM10) and 4 times more effective than standard carpet solutions (PM10). AirMaster Earth is available in seven distinctive colour options, including five neutral shades and two vibrant accent colours. Each tile features a statement black yarn threaded into the pattern resulting in dramatic and tactile flooring designs. AirMaster Earth can be combined with AirMaster Tones, to allow designers to create zoning and routing in open plan spaces, or to provide dramatic statement design features and centre-pieces in meeting rooms and reception areas. Both collections are delivered with EcoBase™ backing, which contains at least 75% positively defined recycled content, in accordance with Cradle to Cradle® principles.In addition, the AirMaster Earth and Tones carpet tiles also feature Colback® Gold, a primary backing with up to a 95%1 decrease in antimony content, designed to help preserve finite antimony reserves and promote safer tile recycling.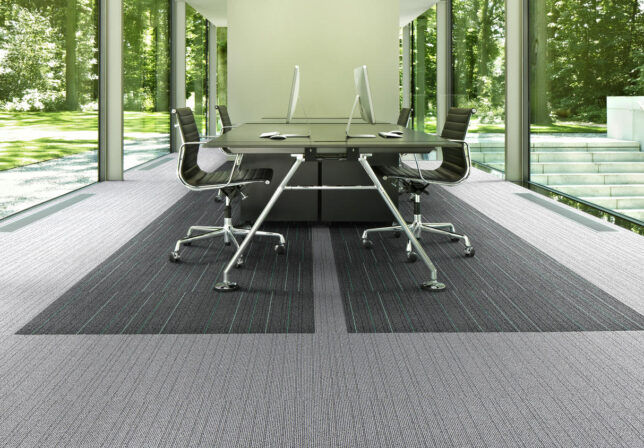 Airmaster
DESSO AirMaster marries great innovation and performance with strong design to boost health and wellbeing in offices, schools, healthcare environments and other public buildings. Its patented technology has been proven to reduce the concentration of fine dust in the air four times more effectively than regular carpets and eight times more effectively than smooth floors. The structured loop pile carpet tile is available in 18 block and six combination colours as standard.